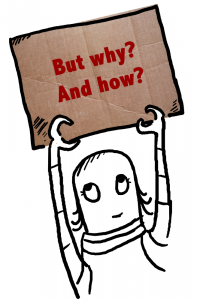 Hey, you dream big. You want to build a spaceship. You think. You're not quite sure. It should fly… probably. But it should definitely, definitely, be red.
When your ideas are big, it's hard to make sure that the people you're working with understand you. You can bring beautiful clarity into your project requirements, and reduce the risk of paying for something you didn't want, by bringing an analyst into your project early on – someone who can talk to all the right people to get the right information.
Business/Information Analysis
The role of an analyst is to bring order to chaos: for your backlog, for your ideas, for your processes, and sometimes for your development teams. Bring in structure, get some diagrams, get your requirements specced to crystal clarity.
Product Ownership
This isn't for the faint of heart. You need someone to really own the product backlog, to determine prioritization and defend development efforts based on a plan, and to follow and chase development to ensure it's done as expected.
To give some examples of our analysis services, we can help you with:
Requirements management
Functional analysis
System/process scoping and documentation
Specifications and backlog creation
Workshops and requirements elicitation
…and more! Give us your challenge, and we'll tell you our ideas. We'll make you a UML diagram of our heart.
Our Clients for Analysis & Product Ownership Services